I posed this question on my Facebook page to see which were the indispensable baby items (apart from nappies & wipes). There were a lot of similar responses so I've grouped them together for you. If you're pregnant and looking for a list of things that you really need and will be the most useful baby products, rather than just a wish list (pro tip: start a baby registry wish list on Amazon, most people have an account and it's easy to share) you've come to the right place. This list is recommended by Mums and Dads who've been there and know what they're talking about. As always if you have any questions just comment on this post or come say Hi on social media.
Some form of baby carrier or sling
There are lots of different brands and styles available, check you have the one that's suitable for you and your lifestyle. Visit your local sling library and try out different carriers before you commit. You will get help with sizing, and can even hire one to try out. Our Mums recommend:
The close caboo carrier is a stretchy sling/carrier. It's great for the first six months, especially the newborn stage. There's no fiddly tying involved, there are two bits of stretchy fabric, one you pop over your head and the other goes round you and baby to secure, with two ring buckles for adjusting. Baby just slots in and you get on with your day. I, along with many others found this a lifesaver for my baby that wouldn't be put down. It comes in lots of different colours and styles to suit. Here's a few of my favourite designs:
The Connecta carrier is part of a group of carriers called soft structured carriers and they are so comfy to wear. It's best used after the newborn stage when they can hold their head up and want to look around. It puts the baby in the optimal position for their hips and I carried my baby until he was about 1 in ours with no problem (he was a velcro baby).
Here is a fabulous guide that will help you find the best baby carrier for your needs.
A pram, pushchair, buggy, stroller, travel system
It's pretty much an essential, although you can do without one but your arms will get longer and your back will not thank you! They're great for shopping trips, walks on flat paths and if you're that way inclined you can get a running buggy and carry on with your fitness regime. The sky's the limit if your budget has none, but designer fabrics and bells and whistles don't make much difference to the way it pushes or how heavy it is. Consider things like how small does it fold, how easy is it to use. If like most people you need to save money, here are the main styles of buggies in the mid range, including the which best buy.
Travel systems
These are all in systems, they often include a car seat which you can put directly onto the frame and a buggy chair. Some also include a carry cot bed you can put on the frame. Great if you want everything together.
Strollers
More lightweight, smaller when folded pushchairs, for when baby is over 6 months and can sit unaided, great for shopping and travelling.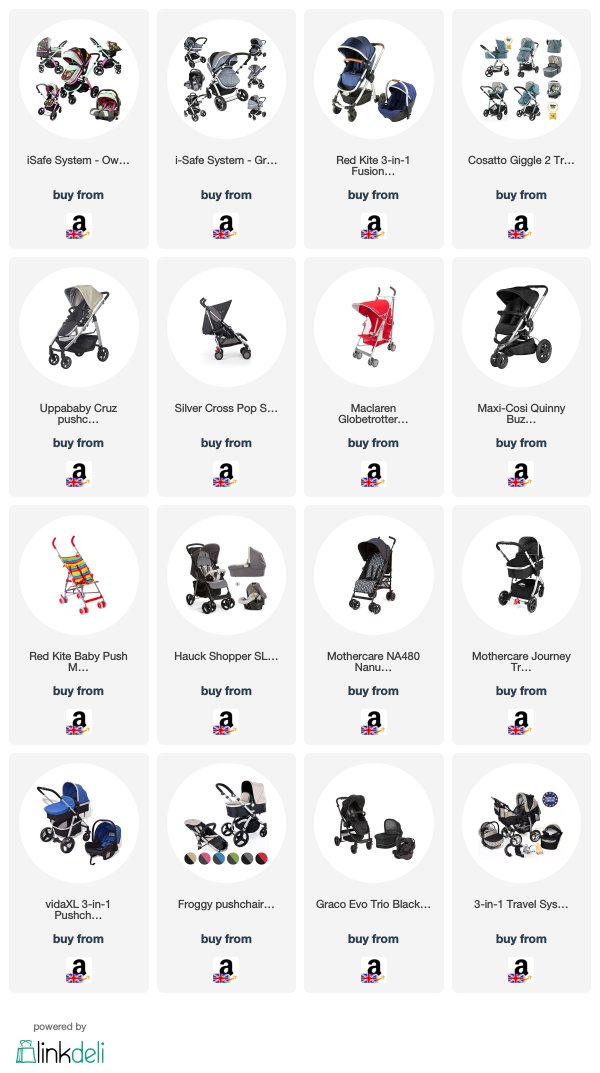 The perfect prep machine
If you plan on bottle feeding formula, or you end up formula feeding, this machine is hailed as a must have and "an absolute lifesaver" from parents. There are certain strains of bacteria that cannot be removed from the formula powder no matter what they do, so the powder needs to be sterilised by boiling water before you give it to your baby. You can make formula up two ways. Firstly, you do it via boiling water in the kettle or on the hob, then measuring out the water needed, adding the correct amount of powder, then waiting until it is the right temperature for baby. That's all very well, but when the baby is hungry, it's the middle of the night and they are screaming, it's not ideal. You can buy ready made formula, which has already been treated, or you can invest in a perfect prep machine. They have come under fire recently, but if you follow the manufacturer guidelines then you should be OK. The perfect prep works by treating the formula powder with a shot of boiling water to sterilise, then it mixes with cooler water to make it at the right temperature to drink.
Snoozeshade
You will become obsessed with nap times and sleep when your baby arrives. A tired baby is a grumpy baby, so anything that helps achieve the sacred nap is good. In summer or winter, a snoozeshade is a breathable material that goes over the buggy or car seat and blocks out the light, shielding your baby from the sun and providing a blackout so they can sleep better. What's worse than a tired baby? One that wakes up early from their nap. You need this.
Gro bags/ baby sleeping bags
Once they are over 9lb they can sleep in a sleep sac. It's basically a baby sleeping bag with arm holes and sometimes sleeves. Blankets work well but they get kicked off, baby gets cold and is more likely to wake. The sleeping bag will stop that problem and provides consistent warmth. You can get different togs like with duvets, summer and winter ones, and some really cute ones. The Gro company brought them out originally hence the name grobag, and it's really cute to think of them like little tomatoes growing in their sleep so the name stuck.
Sleepyhead
The sleepyhead is a baby nest that helps your baby feel secure and sleep better. There's a bit of a theme here isn't there? Anything that helps us have a bit more sleep. I wrote a post a while ago about the concerns with baby sleep positioners, but this brand is within the guidelines. They also have some achingly beautiful designs.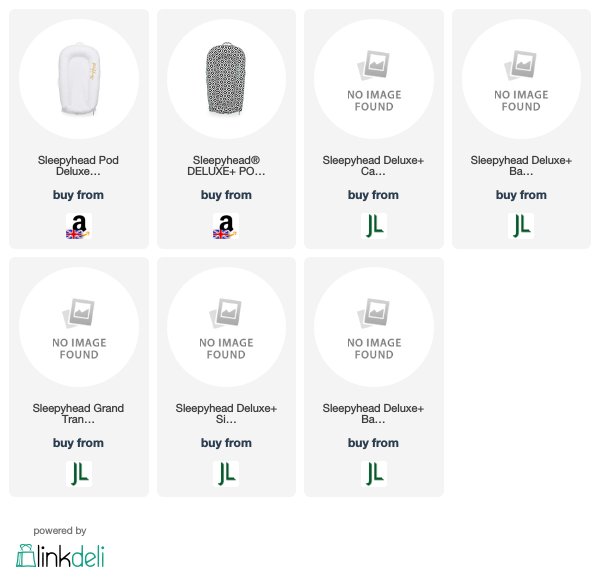 Muslins
Trust me you'll need a fair few of these. You can use them as a dribble wiper, vomit catcher, comforter, burp cloth, swaddler, light blanket and more. They're soft, absorbent and they come in some lovely designs. Here are some of my favourites:
Baby monitor
A baby monitor is basically a fancy walkie talkie. You could just use a walkie talkie if you just want sound to pick up, it will save you a bundle, ha! I discovered the angelcare breathing and movement monitor when I had my second child, he was premature and I just felt so much more relaxed knowing he had a sensor mat on. I didn't wake up and anxiously check as much, I could just sleepily open one eye and if the little red light was blinking at me all was good. It can make some people more anxious, and you have to remember to turn it off when you take them out of the crib (otherwise you get a loud reminder) but I loved it.
Do boobs count?
An essential item, if you breastfeed! They can be used for food, comfort and sometimes medicine. If you don't breastfeed, your best essential is you. Your baby loves being comforted by you, and all the gadgets in the world are no replacement.
What's your essential baby item? Let me know!
Like this post? Pin it for later