How did you announce yours?
Did you find out together or surprise your other half?  A new craze seems to be announcing a pregnancy in the most creative way possible and then sharing with friends.  Here are ten of the best examples I've found:
1. Order a Chinese (or make chinese food), then give him or your intended a personalised fortune cookie
You can either tease out the existing fortune with tweezers and replace it with your own message, or buy some to make yourself.
2. If you've struggled to conceive and used IVF, incorporate your needles and medication for a triumphant announcement.
3. Involve siblings if you have them – usually a fun outfit or get them to hold an announcement! Bonus points if they look extra happy or extra miserable. You can pick up letterboards quite easily now, I got my letterboard from Amazon via this link. 
View this post on Instagram
4. If you're announcing around a special event like Christmas or Easter, wrap up a framed sonogram or pregnancy test and leave that present until last. Get the camera ready!
5. Arrange yourselves for a family or couples photo shoot and put the camera on self timer and set to take a sequence of photos. After the first one, tell him you're pregnant and the camera will record his reaction! Better still get a friend to take the pictures for you.
6. Try using  some photo props and have a play around with coloured backgrounds, baby outfits and little shoes to create a fun picture.
7. Give the Grandparents-to-be a customised wine bottle to surprise them!
8. The coffee cup surprise reveal, make them a brew and when they finish there's a little message inside for them.
9. Use a creative onesie or baby vest to create your own flatlay photo with your sonogram picture or a calendar with the due date circled.
10. This Etsy shop sells pre made social media templates that you can customise with your special date!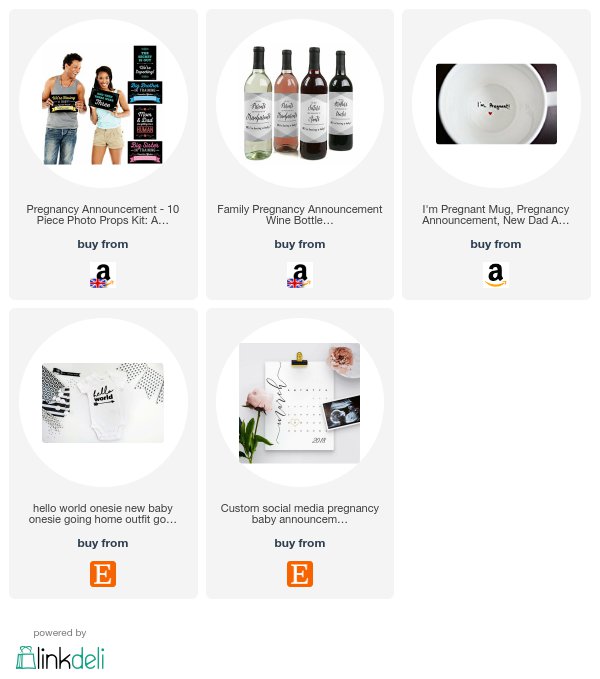 Want a list like this? Start a free 15 day trial with LinkDeli.
Did you announce your pregnancy in a special way?  I'd love to hear from you. If you're pregnant, why not join our friendly pregnancy and parenting group here.
Pin it for later: