Whether you want a more natural style labour and birth or a give me all the drugs one, there is a place for a TENS machine. In my opinion it's one of the best pain relief options for labour and delivery. I used mine in all my labours (except for my last rapid birth). Here's what we'll be covering in this article:
When can I use a TENS machine for pregnancy and Labour?
How to place the TENS machine pads for pain relief in Labour
Tips for using your TENS machine in labour
To hire or buy your TENS machine?
What is TENS?
TENS stands for Transcutaneous Electrical Nerve Stimulation. TENS machines have been around since the 1960s and are used for any sort of pain, but are particularly effective for muscle pain and back pain. Guess what's made out of muscle – the uterus!
How does a TENS machine work?
A TENS machine works in a couple of different ways. Firstly, TENS machines are thought to affect the way pain signals are sent to the brain, the 'pain gateway.' The pain signals usually reach the brain via nerves and the spinal cord. The pain signals are in theory blocked by the small electric shocks from the TENS machine so that the brain receives fewer signals from the source of pain – the pain gateway is closed. Secondly, when a lower pulse rate is used, it stimulates the body to make it's own endorphins, the pain relieving chemicals which can block pain signals.
When can I use a TENS for pregnancy and Labour?
If you are suffering from low back pain in the third trimester, you can use your TENS machine to relieve back pain. Check with your Midwife though, because there are some exclusions such as if you have a pacemaker or suffer with epilepsy. It's also a good idea to have a practice run at getting it out of the box, get your birth partner familiar with placing the pads and experiment with the pulse rates. There's nothing worse than a panicked scrabble to read the instructions and work it all out mid contraction. During labour, you can use it from the very first signs, or at any point. TENS is more useful during the first and early stages of labour, but it can be used at any time during your labour
How to place the TENS pads for pain relief in Labour
Your maternity TENS will come with four pads attached to wires. Read your instructions for the particular model, but all four pads are usually the same. They are set out in two pairs. Each pair will be placed either side of the bony part of the spine. Firstly, insert the batteries and test it works OK. Then, make sure it's turned off to start with (very important), the best way is to disconnect the wires from the unit. Then you can get the placement right and then get the wires attached. The top pair will be placed where your bra line would be, and the bottom pair will be placed just above your buttocks at the bottom of your back, as in this picture:
You can still wear a bra if you like, just undo it, place the pads then pop it back on and get comfortable. Most modern TENS machines now come with self adhesive sticky pads, which you can also get replacements for. Top tip: get a TENS machine that comes with one spare set of pads.
Tips and advantages for using your TENS machine in labour
Read the instructions!
Disconnect the wires and turn off the TENS before applying the pads
Can be used at any stage of labour
Start on a low frequency and build up as you progress
Use the intermittent function between contractions
Use the boost function as the contraction starts, and turn off when it finishes
Avoid water – electricity and water do not mix
Can be used alongside other pain relief, including epidural
Does not transfer to your baby
Remember to turn it off before removing the pads
That last tip is so important – when I first started training as a Midwife, I got many an electric shock from a TENS machine because I forgot to turn it off and just went to take the pads off – especially when it got to a point that the lady just wanted it off NOW.
To hire or buy your TENS machine?
Whether you hire or buy your TENS machine depends on several variables. Is this your first baby? Do you plan on having more children? If the answer is yes to both those questions, buying one is probably a better option, because you can hang on to it and use it again. The cost of buying one is only a fraction more than hiring one, and you can easily get replacement pads for it. The re-sale value is also pretty good, because they are used for a relatively short time. If you don't think you'll get more use out of it and you don't mind hiring one, then go for the hire. The hired units all come with new pads and are checked and cleaned before the next hire. The advantage of hiring is you get a good quality TENS unit and you can have it for up to 6 weeks, then return it when you're done.
Where to hire your TENS from
There are a few places you can hire your TENS machine, your local pharmacy is a good place to start. Tesco do hire as well in store. Your chosen maternity unit may have them for hire when you go in during labour or prior to labour, but it's best for use at home in the early stages, plus they may be in use or on hire (or bits missing). You can also hire a maternity TENS machine online from Amazon, or Boots.
Where to buy your TENS machine from
There are lots of places to buy and various price points, it can be a minefield! It's not necessarily the more expensive the better, look for features like usability, durability, size and stickiness of pads. You may also prefer the look of one to another. Some have a belt clip, necklace or pouch. There's nothing worse than dropping the unit or having it pull on you. The slightly cheaper option is to buy your TENS second hand from somewhere like eBay, and just buy replacement pads. Click here to go to eBay, and change the search conditions to suit you. Maybe a friend has one they used that you can borrow? Here is a selection of my recommended maternity TENS machines. Have a browse by clicking on the images below and choose one you like: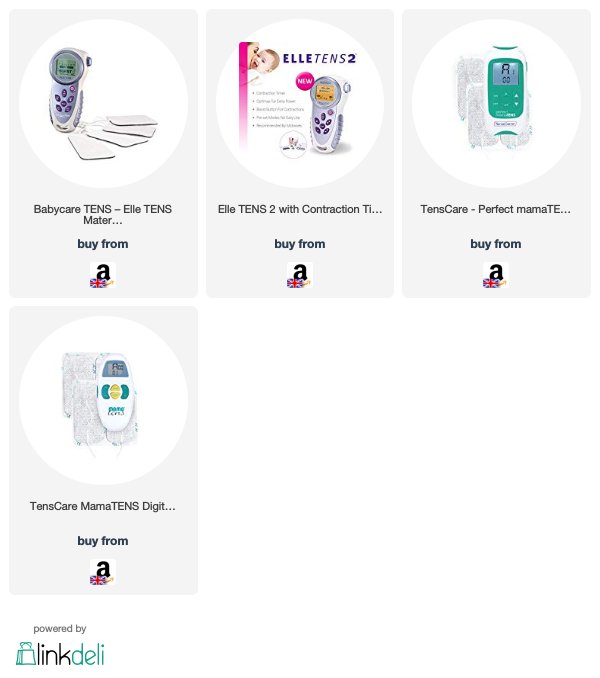 Further reading
The Pros and Cons of Pain Relieving Drugs in Labour
Why Choose a Home Birth and FREE checklist
What to Pack in Your Hospital Bag
Pin me please