Father Christmas is so busy this time of year so he's asked me for some help to give him ideas what to put into the children's stockings on Christmas eve. I wanted some different things this time, so I put the word out and I have some real gems for you.
A twist on chocolate coins
Some of you may remember my Hotel Chocolat review earlier in the year, one of the best and most simple ideas is chocolate! To make it a little bit different from chocolate coins, the tiddly pots we had have now had a festive makeover and they come in penguin (caramel), reindeer (milk), Santa (dark) and snowman (white) flavours as well as the classic designs. I remember being impressed with how much you got in a pot, and the quality of the chocolate.
A personalised story book
This could be for the Christmas Eve box if you have one, then you can read it together before bedtime. The clever people from Wonderbly have done it again with their heartfelt tale of the Christmas Snowflake. It's an endearing story of a snowflake trying to find her forever home. Once she sees the Christmas stockings all lined up by the fireplace she knows she'll fit in and at the end the snowflake lifts out of the book and becomes a decoration on your tree. Fabulous. The best part is you can put a dedication in and personalise the stockings.
Special Edition Itty Bittys
Earlier this year we got Phoebe the wonder woman Itty Bitty and William the Iron Man Itty Bitty for their respective birthdays. Itty Bittys are little soft toys of kid's favourite characters from film and TV, made by Hallmark. They're quite collectable, and I can imagine they'll be like beanie bears were to me back in the day. For Christmas they have a limited edition set, we now have two from Star Wars in festive gear, and a very special Minnie and Mickey, which I will try and keep the tags on. I've got two hopes with that (If you're reading from the US you might not get that reference). I love the little details they have on them, like Yoda's little candy cane walking stick and Minnie's red velvet dress. William will get the Star Wars ones, Phoebe will get Minnie and Daniel will get Mickey.
Of course you need something to put it all in so a big old sack will do – but how about making it a personalised one? I've got a special discount code for you from The Santa Sacks Co, which will give you 50% off any Santa sack, just quote BLOGXMAS at the checkout. I can vouch for the quality as I have one myself, there are a variety of designs to choose from and each name and letter is designed, machine cut and heat pressed onto the sack before delivery. Offer valid until 31st December 2017.
Here are a few more ideas for you plus where to find the items I've suggested. Merry Christmas!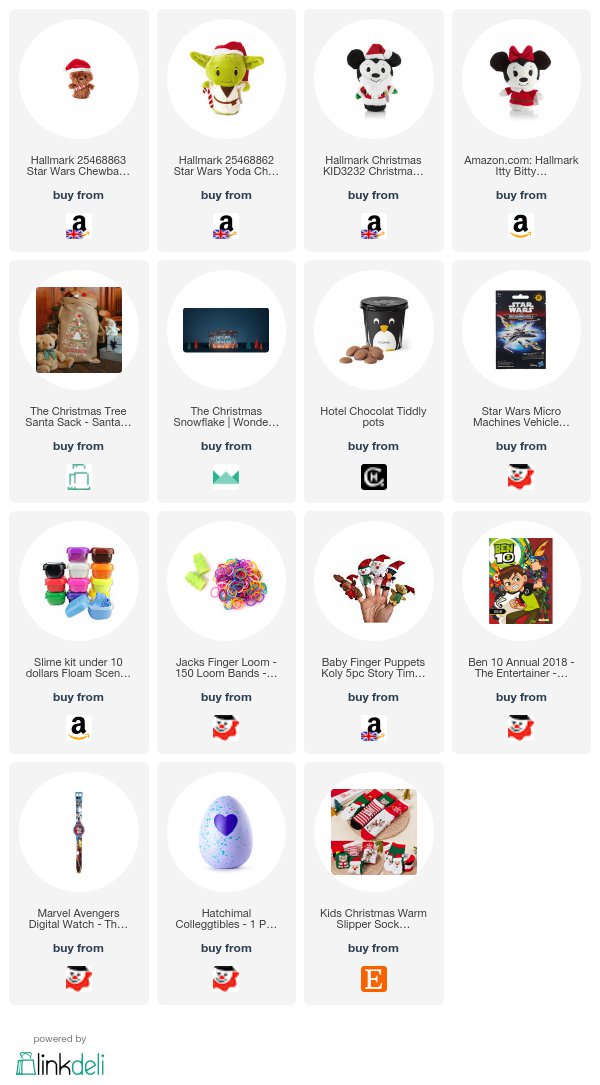 Want a list like this? Get your free trial of LinkDeli here
Disclosure: some of the items were gifted to me as PR samples. All opinions my own.
PIN IT: