I have struggled to find the perfect nursing bra on my breastfeeding journey.  The usual recommendation is to get fitted in the last weeks of pregnancy – my advice is DON'T!  Wait until breastfeeding has settled a bit, at least two weeks after the birth.  Until then, wear sleep bras or buy a couple of cheaper ones to keep you going before getting some quality bras, because your breast shape and milk supply will change along with your body in the weeks following the birth.  I've had three children and I've spent lots on bras I haven't worn as they were the wrong size or fit.
Buy the right size!  Get measured once breastfeeding is established, measure yourself at different times of the day and try on different styles to see which one suits you the best.  I've learnt my lesson now. Buy a sleep nursing bra or two for the early days until you're established.
Go for a bra that has three or more fastenings at the back to give you extra support
You can wear an underwired bra when breastfeeding, which is great for the larger busted ladies amongst us (me included!)
Light padding can give you added comfort and support and give a smooth outline under clothes
How to measure yourself:
Measure underneath your bust around your ribcage.  This is your bra measurement.  After 30 weeks of pregnancy your ribcage shouldn't expand much more so you won't need any bigger than this.  Measure around the bust – this is the cup size.  You can do it with or without a bra on, whichever is most comfortable.  Below is a rough guide to cup sizes, but styles can vary and it's important to try different brands and styles on for the best fit.
I was sent the Freya Pure Nursing bra to wear and review from the Freya Bras available at Lingerie by Victoria, a UK company that specialises in bras for the curvier lady (I am proud to be one!), they stock DD up to K cup should you need it.  I'm pleased to say it fits the criteria.  I wore it for three days and it retained its fit and shape.  Baby D feeds 2-4 times a day and the bra was comfortable to wear and the fastenings were easy to pop open and closed.  I've put it through the wash and it still looks as good as new.
I like the bow in the middle and it has a pretty lace design at the top.  It has good firm support which I need and the clips unfasten and pop back up easily.  The back of the bra has three hooks which make it hold well.  The cups have light padding and a smooth feel which means you can wear it under any sort of outfit.
If you'd like some more breastfeeding information, see my post on Best of the Breast, it has some great resources for some common questions and concerns about breastfeeding.
Here are a few of my favourite nursing and breastfeeding bra companies, just click on the images to browse: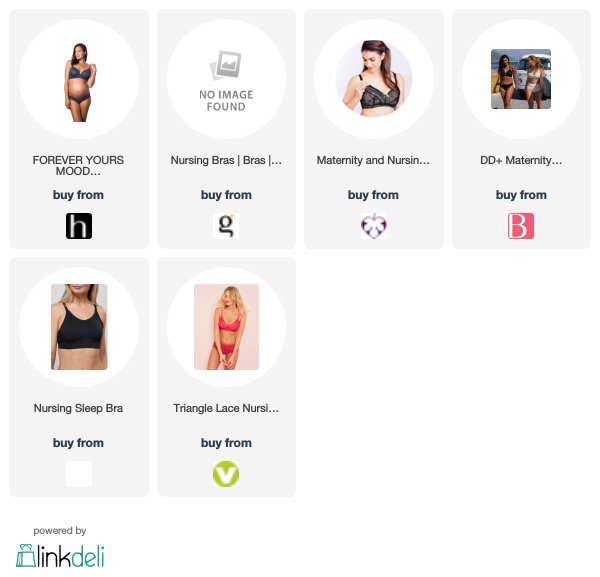 Pin it for later
Disclosure: I was gifted the bra, all opinions are my own