When it's the festive season there's a lot of pressure to eat, drink and be merry, but when you're heavily pregnant it's not so much fun. A big baby doesn't leave much room for big meals, everything gives you heartburn and you can't drink alcohol. At least there's plenty of chocolate. What the hell do you get a pregnant woman or new mum at Christmas time? This gift guide works any time of year, and she'll really appreciate the thought.
A personalised book for your new arrival from Wonderbly
If you know what you're going to call your new arrival how about a personalised book? This idea from the people at Wonderbly is so special, I've ordered one for my sister-in-law who is expecting my nephew and her 4th child in January. It's called A Letter for The Littlest Bear, where you can personalise your letter to your new baby and involve the whole family in the search for the littlest bear to join them. It will be such a nice memory for them when they get older. The story is so sweet and it will become a family keepsake to treasure.
For other members of the family, they also have the most wonderful Willy Wonka's chocolate factory book called My Golden Ticket that has intricate personalisation making every book unique, their name spells out a special Oompa Loompa song, and the chocolate or sweet they make in the factory is their own special personalised one. It's based on the famous Roald Dahl book and aimed at 5-12 year olds. I've even included a candy smell on mine and a message to my son at the beginning. He's going to love it.
Motherly Love footloose soothing massage oil
Couple the massage oil with a foot massage and you're on to a winner with this one. Developed by a midwife and based on research, these oils are designed with pregnancy in mind. The range also includes baby massage oils and other specific oils for pregnancy.
An Elvie Pelvic Floor Trainer
A bit off the wall and you may get some funny looks if you bought your wife this, but it's something that she can use to gain her confidence back when she's ready after the birth, or if you're further down the line and the baby is older, and she's been suffering from bladder weakness, this is a helpful gadget to get the sensation right for pelvic floor exercises. The Elvie pelvic floor trainer and app was in the Oscar's goody bag and went down a storm! I've been trying it out too for my leaky pelvic floor after 4 children, and it's helping me along.
It's quite small, and very friendly… I made a youtube video of me trying it out (no actual footage of me inserting it for any pervs out there), click here to take a closer look.
Pampering bath oil from Olverum
Olverum is a luxury bath oil blend of essential oils. It is described as 'Hygge in a bottle,' time to take some me time and relax in a heaven scented bath. It contains a highly concentrated blend of 10 essential oils including: Rosemary, Siberian Fir Needle, Lavender, Eucalyptus, Lemon Peel, Juniper, Lime, Lavandin, Exotic Verbena and Geranium Flower. Caution should be taken in pregnancy, check with your caregiver, but on the whole if you have no pre-existing medical conditions and are past 12 weeks then it's safe to use. It's a non-greasy oil formula and it's so concentrated you only need a few drops. These carefully chosen extracts combine to create a truly relaxing and uplifting experience for body and mind – helping to sooth aching muscles, relieve stress, and promote a restorative sleep. The 125ml size is only £29.00 and will be enough for 25 baths, the 250ml size is £53 and enough for 50 baths. The travel set is £19 and enough for 9 baths. Olverum is exclusive to Liberty, Conran, Harvey Nichols and Fenwick.
Here are a few more ideas for you from a bit of jewellery for a real treat to really useful things like the best nipple cream! I promise they'll be happy with any or all of these, and they will actually use them! If you're pregnant or a new mum this Christmas, I salute you, and I've been there too. I was pregnant four times over Christmas and 3 years ago I gave birth under the Christmas tree! No more for me, but I know what pregnant women want for Christmas xxx
Click on the pictures for more information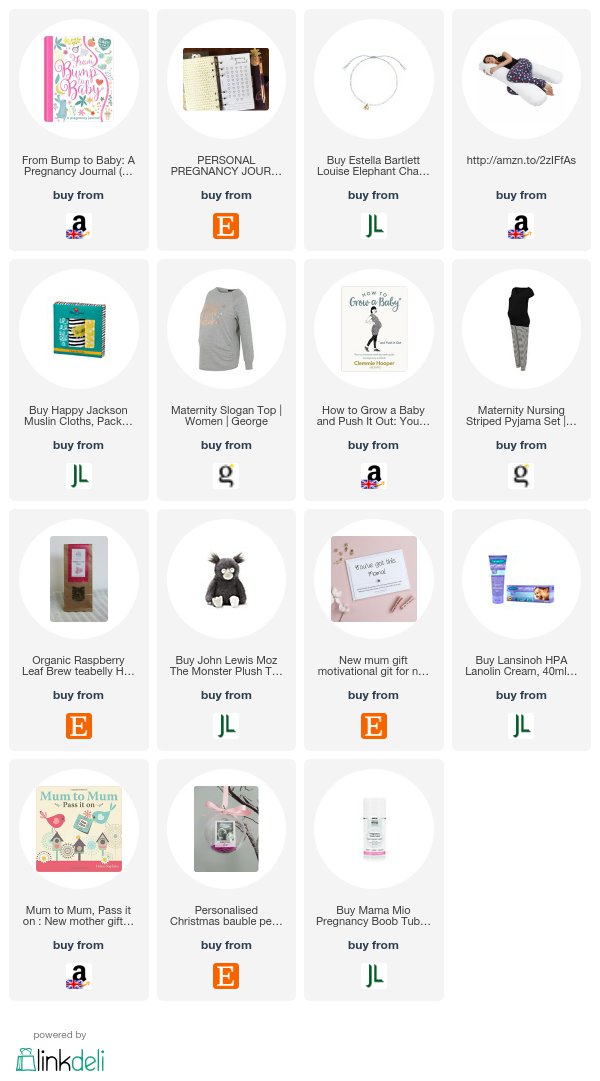 Want a list like this? Get your free trial from LinkDeli
If you're a new mum or expecting, come and join me for a virtual cuppa and chat over on my parenting Facebook Group. See you soon!
Disclosure: I was gifted the books from Wonderbly and a sample of the Olverum bath oil. All opinions are my own.