2015 has been pretty amazing,  I've watched my baby grow up so much in his first year, my middle child has started school and I also gave birth to my blog!   I feel like I've finally found something that's all mine to grow and share.  I've got so many ideas and the thing I struggle most with is finding the time to do it all whilst juggling the demands of family life.   My husband feels like he is the bottom of the pile, but he is far from it, I just run out of energy!  I am not a fan of new years resolutions but I am inspired by goals.   By writing them down I hope to keep myself on track for what I want to achieve.
Consistently get 10000+ page views per month
Reach at least 10000 combined social media following
Gain sponsorship to at least one blog conference
Have a more organised writing and posting schedule
Reach out to work with more brands
Be more consistent
Get the hang of YouTube
Post more vlogs
Submit and feature on the Huffington Post
Launch my online antenatal course
Publish at least one ebook
Design and produce my pregnancy planner plus pregnancy planner inserts
Participate in 3 link-ups per week
Launch my own link up Show and Tell
Get to 500 blog subscribers
Get a payout from Google Adsense
Submit and feature on Scary Mommy
I think this list is achievable, I'll be updating as I go along, I hope to surpass some of my goals and I'll be revisiting my goals every three months.  Here's to 2016 – what are your goals for the year?  Got a question?  Ask me anything!  Any suggestions?  Tell me about them.  Don't forget to follow me on Twitter, Facebook, Pinterest and Instagram.  Links below.  Share this post and help me achieve my goals.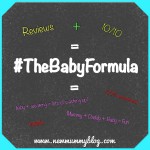 This post may contain affiliate links. For more information, see our disclosure policy